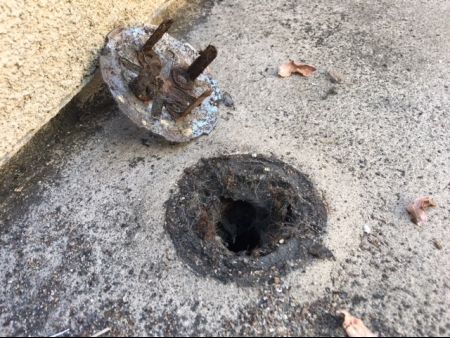 When a roof deck or balcony is constructed, there are a number of features installed that are designed to prevent water intrusion. There's the pitch of the deck, which will allow water to run off the deck surface. There's the sealant, which prevents water from penetrating the deck surface. And there's the drain, which can move large amounts of water from the deck as it rains or as it is cleaned. Below, we examine some of the most common issues that can affect these drains and how they can lead to much larger issues for your home.
Blockages
Many homeowners believe that because we live in Southern California, we don't see a lot of foliage and fallen leaves, that an outdoor drain blockage is rare. Unfortunately, this is not true and most drains—even here in San Luis Obispo County—are exposed to a significant amount of dirt and naturally occurring debris. When these things cause a blockage and allow water to stand on the surface of your roof deck (an effect called "ponding") you're not only risking ugly stains but water intrusion that can eventually compromise the structure of your deck.
Rusting
Metal drains are supported in part by a sheet metal flange that should be embedded under the coating of the deck surface. If your drain is not properly sealed around its perimeter and experiences water intrusion, this sheet metal flange can become rusted. When this happens, we often see that the rust creates bulging around the drain's perimeter—which can prevent water from actually reaching your drain.
Coating Bond Loss
It's critical that the coating bond at the drain outlet is of high quality and properly installed. If it isn't and your drain outlet suffers coating bond loss, you risk rusting and corrosion that could expose the internal structure of your roof deck to moisture. If you notice corrosion around your roof deck drain, it is time to schedule an inspection with a San Luis Obispo County deck waterproofing specialist.
If you are having issues your roof deck or balcony drain, it is critical that you have it remedied before our rainy season is in full swing. At DeckTech, Inc., our professionals have more than 30 years of experience repairing, constructing, and waterproofing decks. We're ready to assess your deck or balcony and offer reliable and cost-effective solutions for any waterproof integrity issues you might have. Contact us today!