Professional Deck Waterproofing for Any Venue
At DeckTech, Inc., we have been committed to offering our customers a level of service that is uncompromising in quality and value yet is affordable. Because we believe in upholding our professional status as some of the area's leading deck experts, we utilize some of the most advanced waterproofing technologies. With our certified, insured, and highly trained professionals, you can receive quality products and services according to detail-oriented and cost-conscious specifications!
How do I know if my deck needs waterproofing?
As a preventive measure as well as a safety concern, waterproofing a deck is something that we always encourage our potential customers and returning customers to consider. Whether you have a tile, stone, concrete, wood, or granite deck, waterproofing your deck can be essential to maintaining the integrity of your deck, adding re-sale value to your property, or protecting your investments in your commercial structure.
If you are experiencing any of the following, you may need our professional waterproofing services:
Leaky decks due to corrosion and rot
Water leaks within your interior or exterior walls
Stains or faded discoloration on your deck finish
Signs of coating fractures or general wear and tear
DeckTech, Inc.'s Guarantees & Warranties
In a recent collaboration with the waterproofing experts and coating manufacturers at Nevada Coatings Systems, we have developed and formulated a specific anti-fracture deck bonding and waterproofing coating assembly. Our proven waterproofing system reduces the risk of intrusion in your valuable commercial or residential investment!
Ask about or corrosion resistant deck coating assembly
We are so confident in our technologies and application services that we always offer our customers guarantees, and all of our products are backed by warranties. DeckTech, Inc. is one of the few companies in the entire state of California to be licensed and approved to utilize this advanced form of waterproofing technology - and our customers reap the lasting and aesthetic benefits!
Don't wait till the rainy season. Call us today!
If you have noticed any sign that may put you, your home, or your guests in potential danger, act today. When it comes to waterproofing commercial and residential decks, our professional workers have been faithfully serving the community for more than 30 + years. Hire our highly trained staff members to come to you anywhere in San Luis Obispo or Surrounding Coastal Communities
Contact DeckTech, Inc. today and ask for a free deck inspection!
Hear From Our Valued Customers
"I truly have the Most Exceptional, Wonderful Deck Guy in all the world!"

Suzie

"The job has gone so smoothly!"

Jessica

"Thanks again!"

Danielle R.

"As a home owner, who was chasing leaks all over our deck, I highly recommend Decktech. The owner, project manager and work crew were extremely professional."

JR D.

"Outstanding Service"

Lisa Lewis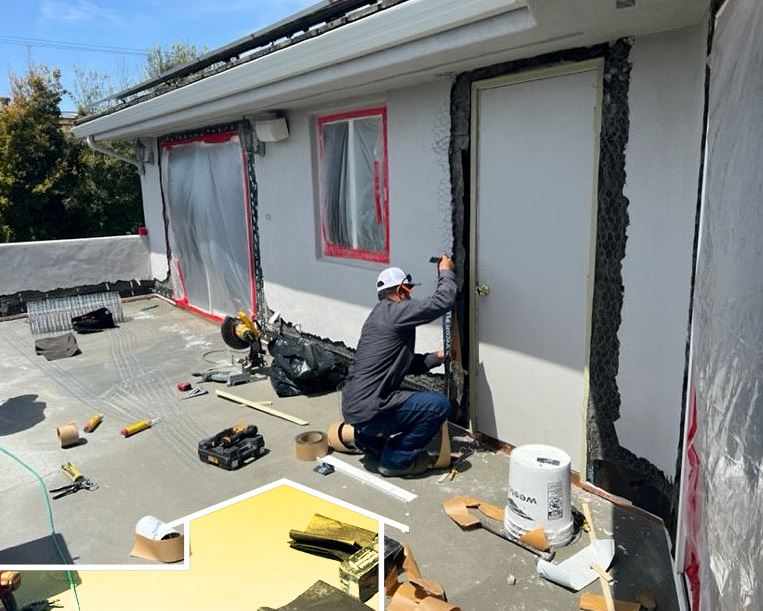 Our Values
FULLY CERTIFIED & INSURED CONTRACTORS

WARRANTIES & GUARANTEED SOLUTIONS

INDUSTRY'S BEST MATERIALS & MANUFACTURERS
30+ Years of Excellence
CUSTOM DECK DESIGNS & INSPECTIONS

FREE ESTIMATES AND LOCAL QUOTES

EXCEEDING EXPECTATIONS FOR 30+ YEARS