SAN LUIS OBISPO DECK RESURFACING
FULLY CERTIFIED & INSURED DECK RESURFACING CONTRACTORS
Your roof-top deck or balcony needs just as much love, care, and attention as all other areas of the home. If you begin noticing that the surface in your deck is beginning to split or crack, ponding water or separation in material and the overall appearance is looking worn, these could be the first signs that it's time to resurface your deck. DeckTech, Inc. and our resurfacing team can help you with that!
Interested in deck resurfacing in San Luis Obispo? We offer free assessments to help get you started.
Contact us
at
(805) 250-4498
to schedule yours!
4 SIGNS YOU NEED DECK RESURFACING
1. Hairline or notable fractures - When it comes to your deck's stability, a defect in any one spot can lead to an unbalanced deck and problems later down the line. If you're observing fractures in your deck's cementitious surface then give our deck resurfacing professionals a call.
2. Paint that's flaking or peeling - You can repaint your deck all you want, but if your deck wasn't properly cleaned before painting then the paint might not stick as well as you'd think.
3. Visible rot - Always be sure to inspect your deck for rot or soft spots at deck surface. Check deck surface around drain outlets, if deck underside extends to exterior of property then check for stucco fractures under balcony deck. Stucco fractures are often a direct result of intrusion to wood framing behind stucco.
4. It's faded or discolored - This fading or discoloration is natural over time as the weather, foot traffic, and cleaning solutions can degrade your color coat of waterproof deck coating material and allow moisture to penetrate underlying wire lath and flashing. This will instigate corrosion and failure of waterproof deck coating material.
WHAT ARE THE BENEFITS OF DECK RESURFACING?
Resurfacing your deck offers many advantages, as it can make your deck look and feel brand new again by restoring its vitality and beauty. Damage to your deck surface can happen for many reasons—from weather and natural elements, or simply due to aging.
When the surface has worn thin, it can be slippery and very dangerous to walk on. Below, our San Luis Obispo deck contractors share some of the benefits that resurfacing can offer.
Some of these added benefits include:
· Provides protection from slipping or tripping
· Reflects heat, making it more comfortable to walk barefoot
· Offers a customized design based on your personal preference
· You have the ability to choose the type of material (e.g., tile, stone, brick, concrete, etc.)
· Adds longevity to your deck for years to come
CAN YOU LAY NEW DECKING OVER OLD DECKING?
After identifying the telltale signs a deck needs resurfacing, many homeowners may wonder if new decking can be laid over old decking. The short answer is yes.
New decking can be placed over existing if the underlying material is not failed and materials are compatible.
HOW TO MAKE YOUR ROOF DECK LAST LONGER
Examining and monitoring the quality of your roof deck is a key component of being a homeowner. Properly maintaining your roof deck will help you avoid problems in the future, which can result in time-consuming and costly repairs.
Here are a few tips on how to lengthen the lifespan of your roof deck:
ROUTINE INSPECTIONS
Performing regular maintenance checks on your roof deck allows you to spot potential problem areas; by monitoring its quality, you have the opportunity to take a proactive approach to fix any issues.
When giving your roof a look, be sure to inspect any damaged spots. If you live in a stormy area, be sure to check the quality of your roof deck after any severe weather conditions.
CLEAN UP DEBRIS
Any debris that you notice accumulating on your roof deck should be gently cleaned up and removed. It's recommended that you use a leaf blower or a soft bristle broom to remove dirt and leaves. Debris on decks will obstruct drainage and over long term impact your decking material with adverse conditions.
TIME TO RESURFACE YOUR DECK?
CALL DECKTECH, INC. FOR A FREE ESTIMATE!
Our deck resurfacing team can help you determine what you need to start on the resurfacing project. We evaluate every step of the process with a project manager on-site to make sure that we are providing reliable and consistent services that meet our high standards.
At DeckTech, Inc., our commitment is to ensure that your experience with us is pleasant and that you are 100% satisfied with the results. We proudly serve the San Luis Obispo County area, including San Luis Obispo, Shell Beach, Avila Beach, Grover Beach, Arroyo Grande, Los Osos, Morro Bay, Cambria, and Cayucos.
Hear From Our Valued Customers
"As a home owner, who was chasing leaks all over our deck, I highly recommend Decktech. The owner, project manager and work crew were extremely professional."

JR D.

"Outstanding Service"

Lisa Lewis

"Top notch company"

Steve and Lori

"Fantastic Job"

Robert Flores

"Excellent Workmanship"

Linda O'Hara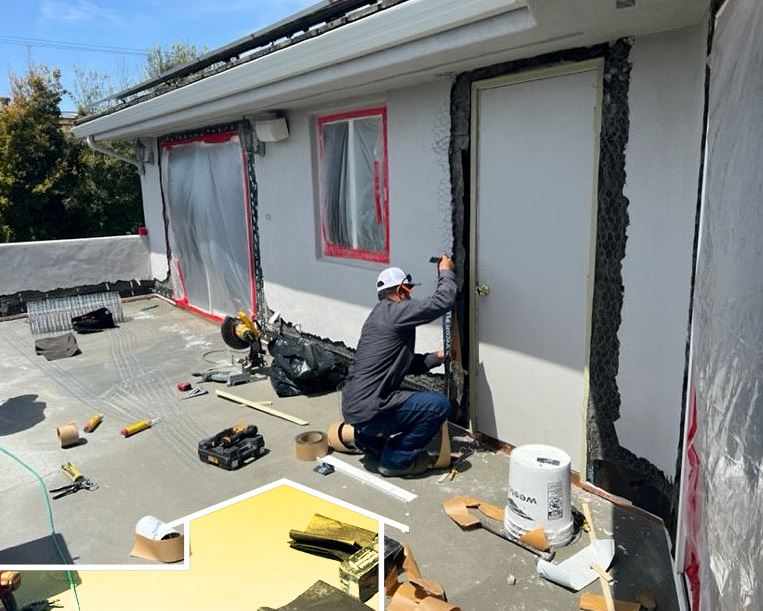 Our Values
FULLY CERTIFIED & INSURED CONTRACTORS

WARRANTIES & GUARANTEED SOLUTIONS

INDUSTRY'S BEST MATERIALS & MANUFACTURERS
30+ Years of Excellence
CUSTOM DECK DESIGNS & INSPECTIONS

FREE ESTIMATES AND LOCAL QUOTES

EXCEEDING EXPECTATIONS FOR 30+ YEARS