SAN LUIS OBISPO DECK INSPECTION
PROVIDING FREE DECK INSPECTIONS FOR HOME SALES
At DeckTech, Inc., fixing deck damage and protecting your property starts with an inspection, water test, and removal of key exterior details to confirm intrusion and extent of damage prior to scope issuance. Being thorough in this process helps ensure the customer that our proposed scope is accurate and we can implement a required solution.
Common places for hidden damage include:
· Behind stucco and tile from a roof deck or balcony
· Dry rot
In need of a deck inspection or assessment in SLO? Call (805) 250-4498 to schedule your appointment.
HOME DECK INSPECTIONS FOR REAL ESTATE AGENTS
The FREE DECK INSPECTION offered to real estate agents provides an assessment of all deck conditions. It also identifies conditions that may extend into inaccessible areas where substantial damage can be identified prior to closing of an escrow.
This information is often vital for all parties of interest during real estate transaction. It also exercises the due diligence process for agents and minimizes the potential for long-term liabilities with respect to adequate disclosure, meaning that you can sell your house faster with our trusted service.
No matter what your situation, call our SLO deck inspection team or schedule your complimentary initial assessment online.
SB-326 Inspections- Decktech does not provide these inspections. Current regulation does not allow inspection company to complete repairs. Although we are the foremost expert with deck inspections and understanding failure we have elected not to provide inspections so that we can offer the required repair.
If you have had a SB-396 Inspection that requires repairs to your deck, then please contact us and we can provide a complete repair solution utilizing our retained Structural Engineers, Architects and team of experienced staff with years of expertise solely rectifying deck conditions.
OFFERING INSPECTIONS TO DECKS & SURROUNDING ABUTMENTS
When paper fails behind exterior stucco siding or deck privacy walls, it allows moisture to bypass deck flashing and leak into the structure. Often times homeowners believe the source is from deck coating, but it generally originates from several exterior details in addition to deck coating that needs to be identified correctly for long term solution.
Our San Luis Obispo deck inspectors make sure to thoroughly inspect all intrusions sources. From balcony deck coating that has underlying rusted metal flashing (allowing for moisture to penetrate hidden framing), to deck stucco privacy walls that are water tested and determined to have failure at underlying paper, we can diagnose and repair a number of issues.
We assist customers in Avila Beach, Shell Beach, Pismo Beach, Grover Beach, Arroyo Grande, San Luis Obispo, Morro Bay, Los Osos, Cayucos, and Cambria.
---
RECOMMENDED READING:
Hear From Our Valued Customers
"As a home owner, who was chasing leaks all over our deck, I highly recommend Decktech. The owner, project manager and work crew were extremely professional."

JR D.

"Outstanding Service"

Lisa Lewis

"Top notch company"

Steve and Lori

"Fantastic Job"

Robert Flores

"Excellent Workmanship"

Linda O'Hara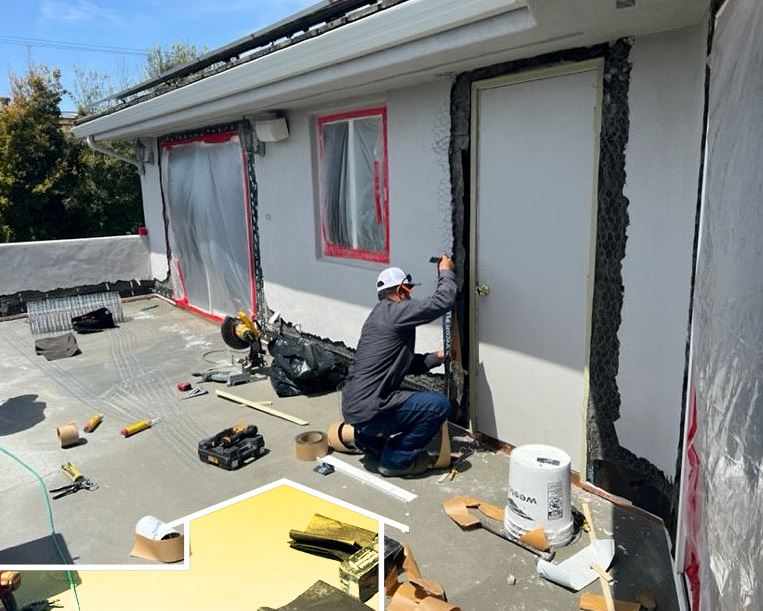 Our Values
FULLY CERTIFIED & INSURED CONTRACTORS

WARRANTIES & GUARANTEED SOLUTIONS

INDUSTRY'S BEST MATERIALS & MANUFACTURERS
30+ Years of Excellence
CUSTOM DECK DESIGNS & INSPECTIONS

FREE ESTIMATES AND LOCAL QUOTES

EXCEEDING EXPECTATIONS FOR 30+ YEARS