ROOF DECK LEAK REPAIR IN SAN LUIS OBISPO COUNTY
NEED AN INSPECTION? CALL DECKTECH, INC. TODAY: (805) 250-4498
Many homes in the San Luis Obispo County area are installed with rooftop decks, walk-on decks, or flat roof decks and typically have some sort of living space underneath them. Unfortunately, decks can begin to leak for many reasons, which can damage the deck, ruin lower level living spaces, and in some cases, compromise the integrity of the home's structure.
If you are experiencing any of the following, you may be in need of roof deck leak repair service:
Excessive ponding water

Leaks in deck or railing

Damaged

waterproofing

systems or membranes

Soft spots at deck surface or dry rot from long term intrusion
From minor to severe leaks, any type of water leakage can lead to costly damages and dangerous living conditions. Whether you are a homeowner, a real estate agent, or architect, the expert San Luis Obispo roof deck contractors at DeckTech, Inc. can help diagnose the issue, create a solution, implement the proper repairs, and utilize the most effective deck technologies to eliminate roof deck leaks and prevent future leaks from occurring.
---
We proudly offer free deck inspections and assessments.
Request yours by calling our helpful team directly at (805) 250-4498.
---
What Are The Risks Of a Leaky Tile Deck?
When water leaks through a tile deck, it can cause some problems. The water can damage the structure of your deck over time, making it weaker and less stable. If you don't fix the leak, it could even lead to damage in the rooms below the deck, like the ceilings or walls. So it's crucial to take care of the issue quickly to avoid further damage and ensure that your deck and the surrounding areas stay dry and safe.
COMBINING TOP-NOTCH DESIGN & EXPERT WATERPROOFING TECHNIQUE
Roof deck construction needs to be executed with expertise and methodical proficiency – otherwise, dangerous leaks can occur. DeckTech, Inc. always utilizes the best materials, waterproofing technologies, and deck products to ensure curb appeal, quality performance, and durable function for years to come.
Why Customers Choose DeckTech, Inc. for roof deck repair:
We use time-tested installation techniques and waterproofing methods

We ensure every deck is installed properly to eliminate failure risks

We install every roof deck with materials impervious to moisture intrusion

We can diagnose and detect any roof deck leakage
From deck restoration to contracting, DeckTech, Inc. covers a wide range of services for residential and commercial customers throughout the San Luis Obispo County, including Avila Beach, Shell Beach, Pismo Beach, Grover Beach, Arroyo Grande, San Luis Obispo, Morro Bay, Los Osos, Cayucos, and Cambria. If you would like to request a free estimate or roof deck inspection, call our San Luis Obispo deck contractors now.
HOW LONG DO ROOFTOP DECKS LAST?
Many homes in San Luis Obispo County have rooftop decks installed. Many of these homeowners as well as homeowners considering a new rooftop deck wonder how long they can expect their rooftop decks to last. While a deck could be damaged by water or other factors early in it's life, on average rooftop decks tend to last around 10 years before they are needed to be replaced.
---
Contact us today at (805) 250-4498 to schedule an appointment!
---
RECOMMENDED READING:
Hear From Our Valued Customers
"I truly have the Most Exceptional, Wonderful Deck Guy in all the world!"

Suzie

"The job has gone so smoothly!"

Jessica

"Thanks again!"

Danielle R.

"As a home owner, who was chasing leaks all over our deck, I highly recommend Decktech. The owner, project manager and work crew were extremely professional."

JR D.

"Outstanding Service"

Lisa Lewis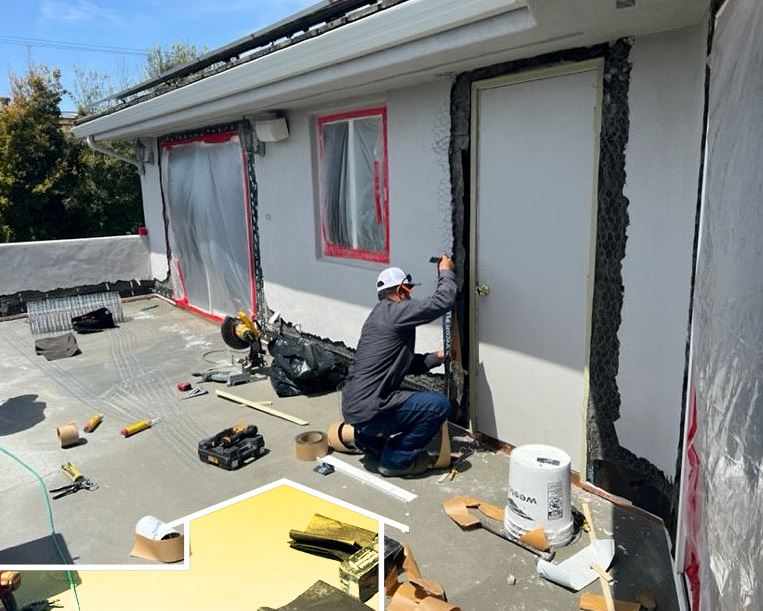 Our Values
FULLY CERTIFIED & INSURED CONTRACTORS

WARRANTIES & GUARANTEED SOLUTIONS

INDUSTRY'S BEST MATERIALS & MANUFACTURERS
30+ Years of Excellence
CUSTOM DECK DESIGNS & INSPECTIONS

FREE ESTIMATES AND LOCAL QUOTES

EXCEEDING EXPECTATIONS FOR 30+ YEARS