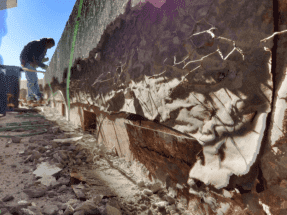 After some inspection and a few weeks of hard work, Ron McKenna of DeckTech, Inc. was able to fix the failed deck of a local resident. Scott R., who resides in Cayucos, contacted DeckTech assess the chronic leaking issues his tile deck coating was having.
Scott R. called DeckTech after noticing its crew working on several homes in his neighborhood and was given numerous recommendations from his neighbors. Scott R. asked around was told that DeskTech was not only professional but offered solutions that other contractors would overlook.
Once Ron McKenna inspected the deck, he found that the tile deck was installed at a later date than the original coating assembly. The contractor who installed the original tile deck applied tile to the existing coating assembly, which was designed to breathe and dry. As a result, the deck coating below the tile was decomposing which caused the chronic leaking.
Offering a Simple Solution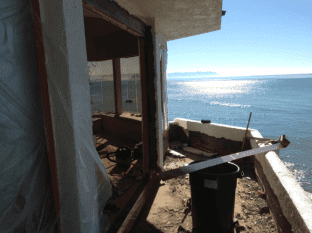 DeckTech's solution was to remove and replace the tile and the stucco screeds, followed by an adding deck flashing to fix the water leakage. The crew also used their preferred waterproof deck coating in place of tile which would offer a long-term solution with less maintenance issues in the future.
While working on Scott R.'s deck, DeckTech brought in veteran staff so that every aspect of the project – from tile and coating removal to re-plumbing drainage outlets – was addressed thoroughly and effectively. The project took approximately 3-5 weeks to complete and Scott R. was extremely pleased with the end result. He is now having the DeckTech crew work on other areas of his house.
The skilled contractors of DeckTech, Inc. serve San Luis Obispo County and have decades of experience. Our customers are constantly pleased with the inspections and work we do on their homes. If you have a project that involves tile decks and resistance to water leakage, contact DeckTech, Inc. today to learn how we can help.