At DeckTech, our San Luis Obispo deck resurfacing experts recently performed an inspection of a tiled deck which had been leaking for years. Upon inspection, we found that the waterproof coating had failed, and the deck was in need of serious repairs. The homeowner hired us to complete the repairs, and they are now enjoying a rock-solid deck that will stay leak-free for years to come.
Do you have a leaky deck? Contact us today at (805) 250-4498.
The Water Test
The best way to test for a potentially leaky roof is to simply pour water around potential problem areas. As you can see in the picture to the right, this deck was suffering from some serious water leaks that could potentially be impacting the walls of the garage. Leaky decks can cause serious structural damage over time, so it's important to have your deck inspected if you think it might be leaking.
---
Starting Repairs
In the photo to the left, you can see one of our San Luis Obispo deck contractors working on opening up the deck so we can perform repairs. When a deck has been leaking for years like this one, safety is always a concern – once repairs are done, however, the deck will be rock solid and will stay waterproofed for years to come.
---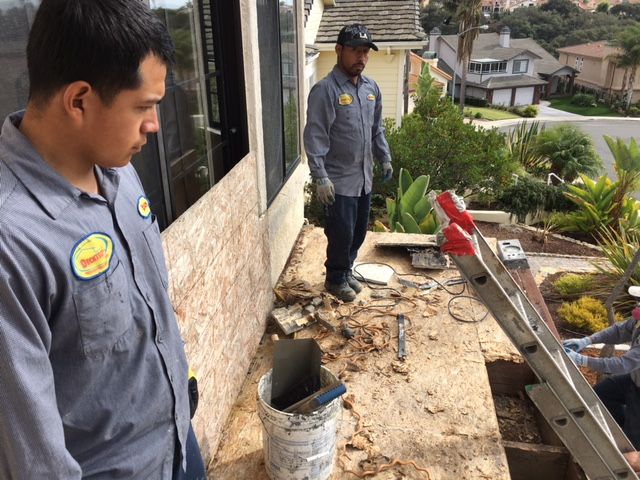 Making Progress
Many deck leaks are caused by a breakdown of waterproofing layers and materials, and it's important to identify and repair all problems to avoid issues in the future. For this project, we needed to strip the deck down to its bones in order to fully waterproof the final product. We never cut corners here at DeckTech!
---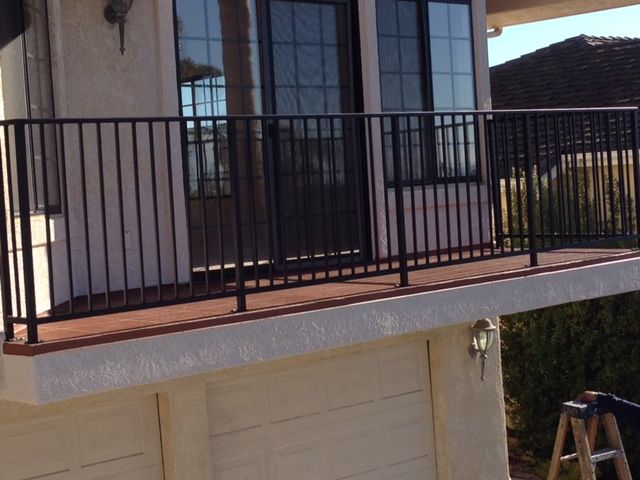 A Beautiful, Leak-Free Final Product
We are experts in waterproofing, and use fully waterproof materials in every deck leak repair we perform. As you can see in the picture on the left, we were able to transform a dangerous liability into an attractive, leak-free living space.
To learn more about our San Luis Obispo deck repair and resurfacing services, contact us today.