Santa Margarita Deck Contractors
30+ Year of Experience with Deck Repairs, Deck Sealing & More
At DeckTech, Inc., our Santa Margarita deck contractors are dedicated to addressing all your deck repair needs efficiently and affordably. Backed by more than 30 years of experience, we've served homeowners, business owners, architects, contractors and real estate agents throughout Santa Margarita and its surrounding areas.
Our mission is to provide customers with high-end service and competitive prices while never compromising the quality of what we do. Our team offers around-the-clock service because we understand that issues with your deck can come up at the most inconvenient times. When you call our office, you won't reach an answering machine, but a dedicated member of our team ready to hear your questions and concerns.
Call DeckTech, Inc. at (805) 250-4498 today to schedule a service.
We Provide Detail-Oriented Craftsmanship
Because every client's needs are different, we don't employ a cookie-cutter approach to our projects. After inspecting your deck, we come up with a personalized solution that will cater to your needs and wishes. Our clients can always trust that our work is backed by extensive warranties. Depending on the type of repair or project, some warranties can range from 3-10 years.
Our services include:
Which Deck is Right for You?
So you've made the decision that you would like to add a deck to your home. Excellent decision! You will undoubtedly enjoy the many benefits of having a deck, not to mention the increased value to your home a beautiful, resilient deck can provide. However, you may be wondering which of the many different kinds of decks is right for you and your household. Depending on your budget, long-term maintenance goals, and your household's specific needs, you may favor one type of deck over another.
Consider the following kinds of decks that may be an option for you and your home:
Tile & Stone Decks. Deck tiles may be the answer you are looking for if you are interested in something that is simple to install, maintain, and can last for many years. Tiles can be made from nearly any material, from wood and composite to stones, such as ceramic and granite. These tiles can vary greatly in cost depending on the type of material and, likewise, the installation costs can fluctuate depending on the scope of your project. Tiles also work great if you have an existing deck with a structure that is in good shape, but has a surface that needs to be replaced. DeckTech, Inc. has designed, installed, and repaired countless tile and stone decks and knows how best protect them from their greatest threat: water intrusion.
Wood Decks. Wood is the most common type of deck. There are numerous of different types of wood, giving you a good amount of design flexibility and a number of different look options, including cedar, redwood, bamboo, and others. Wood decks tend to be the least expensive, with simple "pressure treated" wood being the cheapest of them all (some exotic woods can elevate prices significantly). However, the trade-off is that wood decks require a much greater amount of care and maintenance to prolong their life. You will need to consistently re-seal a wooden deck in order to keep it in top shape, and frequent coats of paint or stain will be necessary if you want to maintain a specific look.
Composite Decks. Composite deck boards are composed of a mixture of recycled plastic mixed with wood fibers. This creates a durable material available in a wide variety of colors which is a lot more resistant to weather beating than a traditional wood deck. These are also usually more pest-resistant than normal wood as well, making them a little more reliable in areas where termites tend to be a major issue. While they tend to be lower in cost, they do not have the same look as a traditional wood deck, and likewise have a different feel, as well.
Vinyl Decks. There is one thing for certain: vinyl is not wood, so you should not expect vinyl to feel or look exactly like wood at all. However, vinyl requires very little maintenance and is highly resistant to mold, mildew, and staining compared to other materials. Vinyl is available in a wide range of colors, requires no refinishing or staining, and can be easily cleaned with a hose or pressure washer. However, like wood, vinyl is not weatherproof and is prone to cracking and expansion in excessive sunlight.
Why Deck Waterproofing is a Must
Although it's easy to overlook, adding a waterproofing system is a critical step in the maintenance of a deck. Having your deck sealed keeps moisture intrusion issues at bay that can weaken your deck over time and contribute to its early failure. Even if your deck is made from the finest materials and built to exacting standards, it's still susceptible to damage if it is not properly sealed.
Deck waterproofing offers the following benefits:
Saves you money on costly repairs
Range of color options adds visual appeal to your deck
Offers protection from the elements
Protects against safety hazards from cracks and splinters
DeckTech specializes in deck waterproofing in Santa Margarita and surrounding areas and would be happy to help get you started with an inspection.
Request Your Free Assessment Today
As our customer, you will updated throughout the entire process. We assign a project manager who will frequently visit the site to oversee and ensure that every detail of your repair is done to your liking. The passionate Santa Margarita deck contractors at DeckTech, Inc. are prepared to offer services that exceed customers' expectations and keeps them coming back for all their deck construction matters.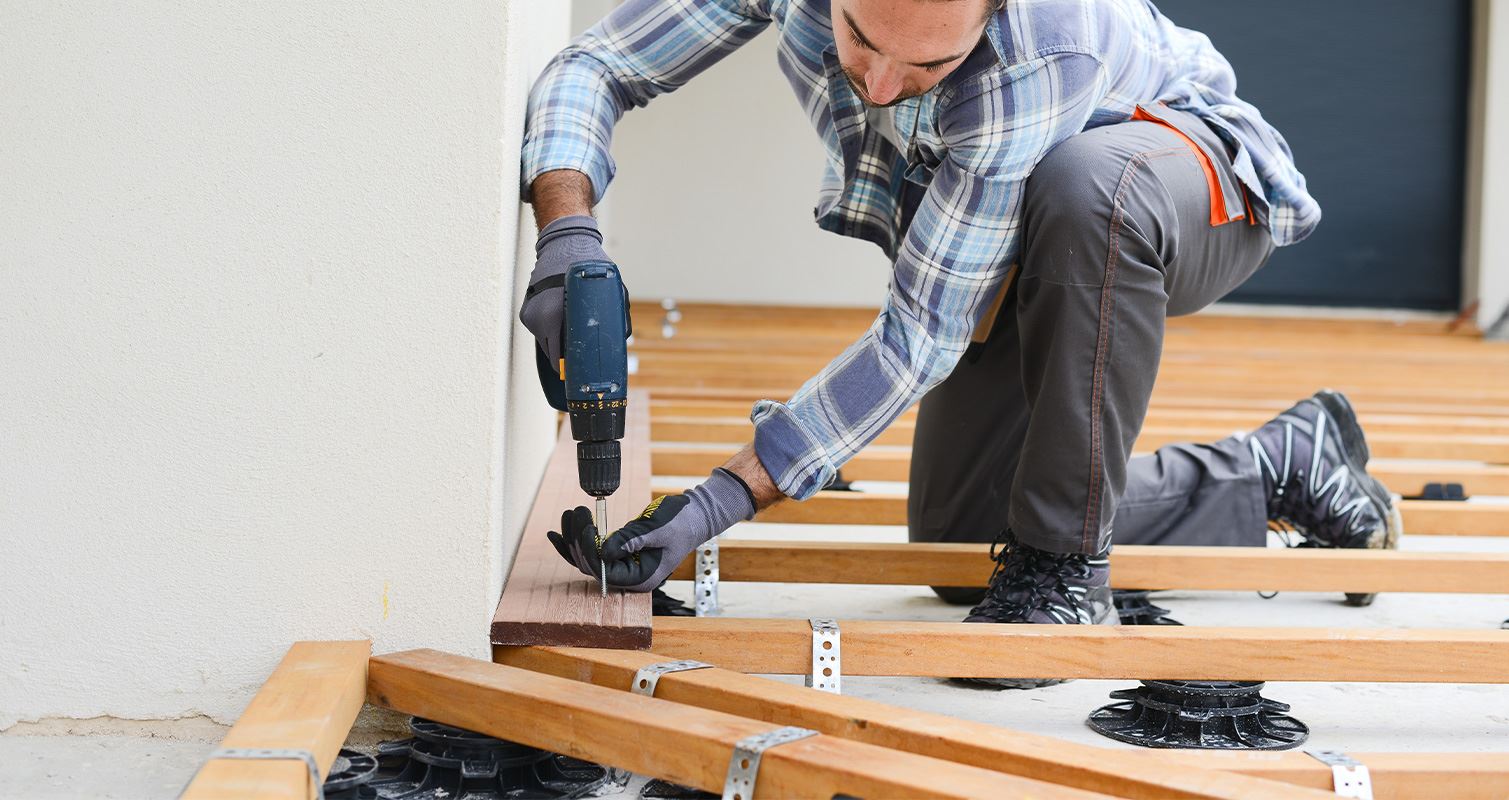 Ready to elevate your outdoor living space?
Contact us today to schedule your deck installation!
Call Now!
Hear From Our Valued Customers
"As a home owner, who was chasing leaks all over our deck, I highly recommend Decktech. The owner, project manager and work crew were extremely professional."

JR D.

"Outstanding Service"

Lisa Lewis

"Top notch company"

Steve and Lori

"Fantastic Job"

Robert Flores

"Excellent Workmanship"

Linda O'Hara
Why Choose Deck Tech?
Learn why we're the right choice for your outdoor space
EXCEEDING EXPECTATIONS FOR 30+ YEARS

FREE ESTIMATES AND LOCAL QUOTES

CUSTOM DECK DESIGNS & INSPECTIONS

INDUSTRY'S BEST MATERIALS & MANUFACTURERS

WARRANTIES & GUARANTEED SOLUTIONS

FULLY CERTIFIED & INSURED CONTRACTORS