Deck Contractors in Pismo Beach
Deck Waterproofing in Shell Beach, Pismo Beach and Surrounding Areas
Scheduling a deck repair can be a lengthy and tiring process. You want a repair that is efficient, affordable and long-lasting. At DeckTech, Inc., our Pismo Beach deck contractors tirelessly work to exceed your expectations in all of your deck contracting needs. We proudly serve homeowners, business owners, architects, contractors and real estate agents throughout Pismo Beach and its surrounding areas.
Since our opening more than 30 years ago, our licensed professionals have strived to continuously provide customers with repairs that are durable, sturdy and appealing. Should you choose to hire our crew, you can trust that your deck will be repaired with some of the finest workmanship and durable materials on the market.
Schedule a service by calling DeckTech, Inc. today at (805) 250-4498.
Our Pismo Beach Deck Services
When having a deck repaired, the last thing you want is a project that will need to be revisited a few months or even a year later. Depending on the work we provide for your deck, DeckTech, Inc. offers warranties that can range from 3-10 years. We cater your specific needs and ensure that every aspect of our work is done to your satisfaction.
Our services include:
Top 5 Reasons to Build a Deck
It's a Smart Investment in Your Home! Adding a deck to your home is a great way to increase your home's value, and will make it easier to sell if you choose to do so in the future. Many industry experts claim that a new deck installation is one of the best return-on-investment upgrades you can do to your home, to say nothing of the other benefits!
You'll Have the Best Parties. Everyone enjoys a summertime party or barbecue, and a deck makes a great place to socialize and grill. With the addition of some outdoor furniture, your new deck will quickly become your favorite place to host parties and get-togethers.
You Can Enjoy the Outdoors. Here in Pismo Beach, we get to enjoy weather that people in other states only dream about. What better way to enjoy said weather than with your own outdoor paradise! When you choose DeckTech to build your new deck, we'll make sure that the finished product is something you'll love and want to use for years to come.
A Deck Adds Living Space. One of the more underrated advantages of a deck is how it can essentially become an outdoor living room. Many of our clients add comfortable outdoor furniture, and soon find themselves spending more time on the deck than outdoors!
Because You've Always Wanted One! Let's be blunt – if you're reading this blog, you're most likely interested in installing a new deck for your home. When you choose DeckTech, you can enjoy the new deck of your dreams, while resting easy knowing that it was built right, and built to last. We don't cut corners – in fact, we go overboard to make sure your deck is waterproofed fully, and back all of our new installations with a warranty.
4 Things To Look For In A Deck Waterproofing Company
1. Reviews - One great thing about providing top-notch service is our customers love us. See our reviews for yourself here and become our next happy customer by contacting us today.
2. Portfolio - When it comes to decks, we understand that visuals are everything. Instead of just imagining what your deck could look like check out our gallery here.
3. How long they've been in business - Being in this industry for over a quarter-century has its perks. Since we've been there and done that, we're well equipped for any circumstance that may arise in the building and maintenance of your deck.
4. Warranties - Not only will we stand by our work 100% but you'll be covered by our warranties that offer from 3-10 years coverage. Many of our decks last for decades, and we'll see to it that you're happy with your deck no matter what.
Building a Reputation of Excellence
Our Pismo Beach deck contractors are passionate and detail-oriented. Since issues with your deck can occur at any time, we offer 24-hour service. When you call us, you can speak with a dedicated member of our team—not an answering machine. Should you choose to hire us, you can trust our expert vision to beautify your home and leave you with a deck you can feel confident in.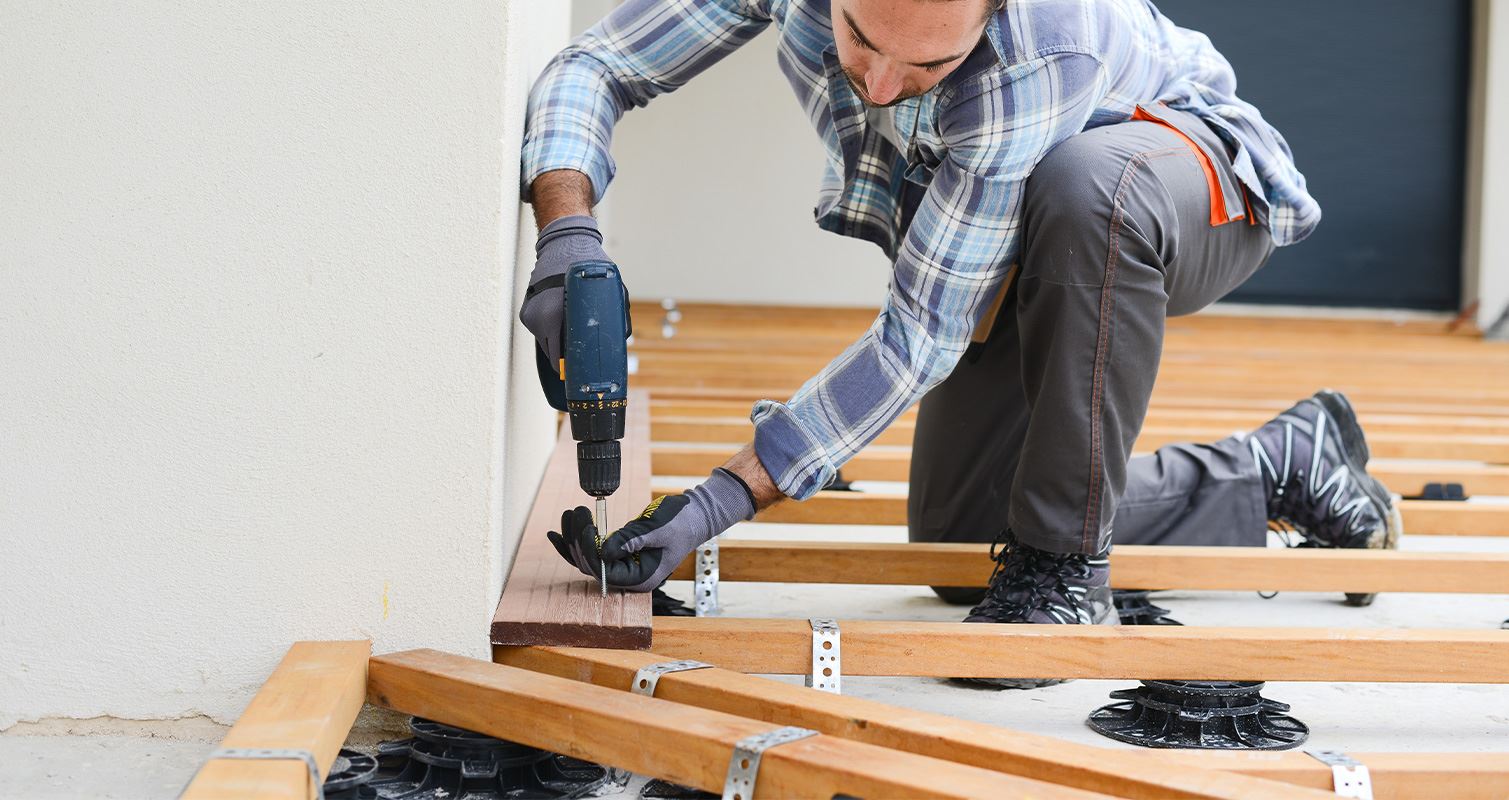 Ready to elevate your outdoor living space?
Contact us today to schedule your deck installation!
Call Now!
Hear From Our Valued Customers
"I truly have the Most Exceptional, Wonderful Deck Guy in all the world!"

Suzie

"The job has gone so smoothly!"

Jessica

"Thanks again!"

Danielle R.

"As a home owner, who was chasing leaks all over our deck, I highly recommend Decktech. The owner, project manager and work crew were extremely professional."

JR D.

"Outstanding Service"

Lisa Lewis
Why Choose Deck Tech?
Learn why we're the right choice for your outdoor space
EXCEEDING EXPECTATIONS FOR 30+ YEARS

FREE ESTIMATES AND LOCAL QUOTES

CUSTOM DECK DESIGNS & INSPECTIONS

INDUSTRY'S BEST MATERIALS & MANUFACTURERS

WARRANTIES & GUARANTEED SOLUTIONS

FULLY CERTIFIED & INSURED CONTRACTORS