Grover Beach Deck Contractor
Call DeckTech, Inc. for Deck Repair, Waterproofing & More
A deck can be one of the highlight features of your property, but it also demands care and attention in order to stay in its best condition. This can be particularly difficult in coastal areas where hours of sunlight combined with marine layer, damp air, and even the occasional rainfall can put tremendous strain on your deck's surface. When you need a company who can provide you with outstanding deck installation, repairs, coating, and waterproofing services, DeckTech, Inc. is your number-one choice.
With more than 30 years of industry experience, we can provide you and your property with the skill and professionalism you're looking for in a deck contractor. Whether you're looking to build a completely new deck or simply give your old deck space a bit of a facelift, DeckTech, Inc. can get the job done and obtain outstanding results. We understand how important your deck is, and we focus completely on everything from aesthetic considerations to safety so you don't have to worry about a thing when it comes to having a deck that's both good looking and functional.
Experience the DeckTech, Inc. difference for yourself! Schedule your service or get a project estimate by calling our Grover Beach deck coating team at

(805) 250-4498

today!
Why Choose DeckTech?
DeckTech, Inc. can offer you a degree of professionalism and versatility that make us one of the top decking contractor choices along California's central coast. We service all types of decks, including new construction, inspections of existing construction, resurfacing, tiling, waterproofing, leak sealing, and much more! Whether your deck is an integral part of your property or just an added point of pride, we can take care of it and provide you with the best possible service.
Here are just a few great reasons why you should choose DeckTech, Inc. for your needs:
We use the industry's best materials and manufacturers to give you superior results
We service all types of decks, including tile decks, custom and unique decks
We are a fully-licensed and insured contractors
We offer free estimates and local quotes
We back up each of our services with warranties and guarantees
Why Waterproof Your Deck?
Waterproofing is extremely important for decks because even just a small leak an lead to tremendous wear and tear, wood rot, cracking, and other potentially serious problems. At DeckTech, Inc., we know how to inspect for and spot these problems, even in their early stages, so you can have the confidence of knowing the exact condition of your deck.
We can even repair these flaws and restore your deck's condition, and then seal your deck once again so you can enjoy it for many years in the future without having to worry about its stability or condition. We can even provide assessment and inspections for real estate disclosure to ensure you know exactly what condition your deck is in before completing a sale.
New Deck Construction
Looking to add a deck to your property so you can get more enjoyment from your outdoor space? Make sure you hire only licensed, experienced professionals to ensure that your deck construction project is completed safely and correctly. When you call DeckTech, our team can help you design and build the deck of your dreams using only the highest-quality materials. In addition to the added living space you'll get to enjoy, you'll also be adding significant value to your home!
Deck Leak Repair
Moisture intrusion is a big problem for roof decks, causing all kinds of problems that could threaten its appearance and structural integrity. If you have noticed excessive ponding water, soft spots, or evidence of dry rot, you need to contact a deck contractor as soon as possible to diagnose and correct the issue. After making the necessary repairs, we may also recommend waterproofing to protect yur deck and prevent future problems.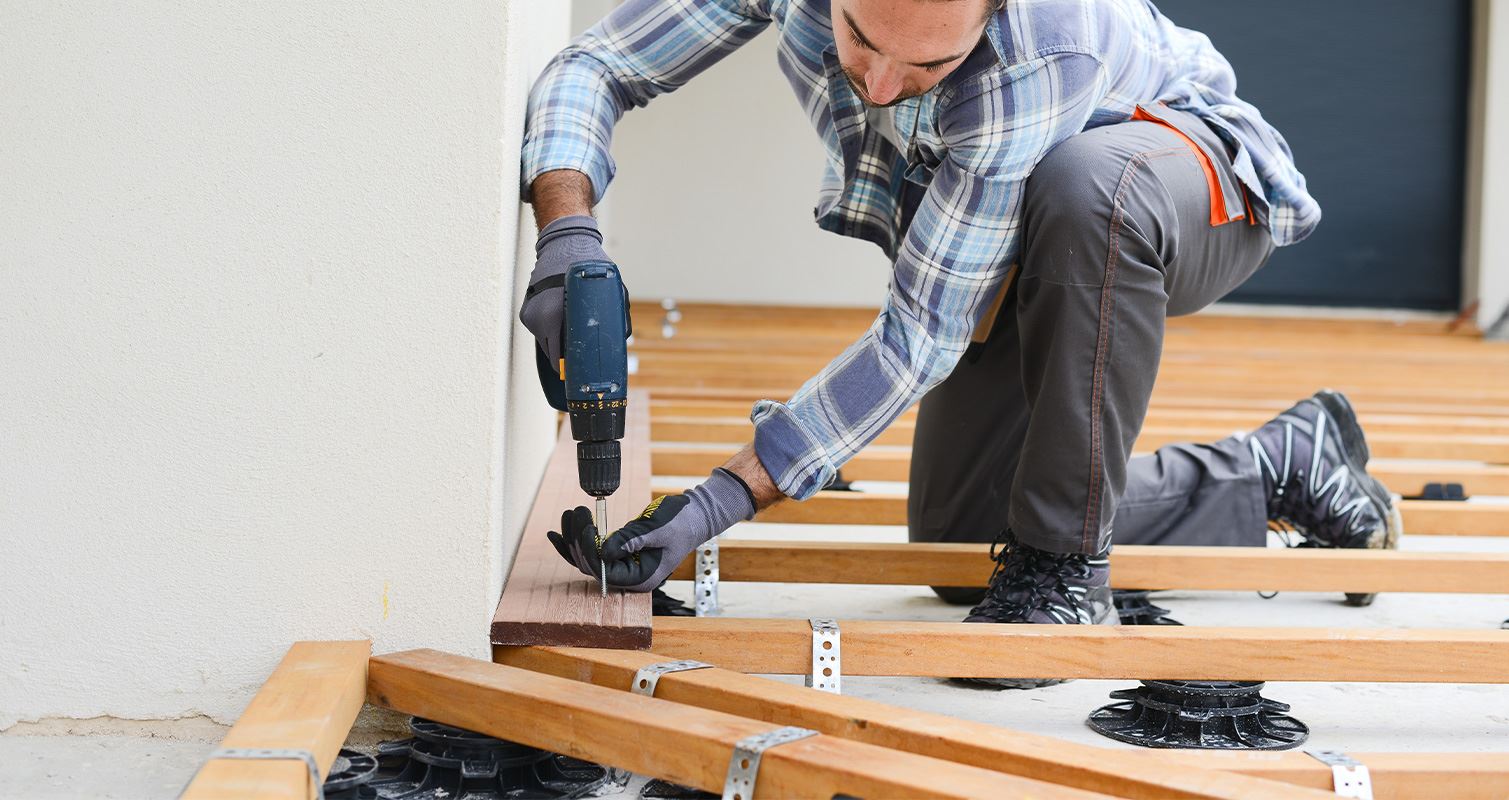 Ready to elevate your outdoor living space?
Contact us today to schedule your deck installation!
Call Now!
Hear From Our Valued Customers
"As a home owner, who was chasing leaks all over our deck, I highly recommend Decktech. The owner, project manager and work crew were extremely professional."

JR D.

"Outstanding Service"

Lisa Lewis

"Top notch company"

Steve and Lori

"Fantastic Job"

Robert Flores

"Excellent Workmanship"

Linda O'Hara
Why Choose Deck Tech?
Learn why we're the right choice for your outdoor space
EXCEEDING EXPECTATIONS FOR 30+ YEARS

FREE ESTIMATES AND LOCAL QUOTES

CUSTOM DECK DESIGNS & INSPECTIONS

INDUSTRY'S BEST MATERIALS & MANUFACTURERS

WARRANTIES & GUARANTEED SOLUTIONS

FULLY CERTIFIED & INSURED CONTRACTORS