Roof Deck Leak Repair in Morro Bay, CA
Dealing With a Roof Deck Leak? We Can help!
If you are facing issues with a leaking roof deck, don't wait until it gets worse! Our friendly customer service team will guide you through our process and schedule an appointment at your convenience. Trust DeckTech for all of your roof decking needs - quality assured!
We are proud to serve Morro Bay and its surrounding areas with our exceptional roof deck leak services. Let us bring our expertise right to your doorstep so you can rest easy knowing that DeckTech is on the job.
---
Call (805) 250-4498 for professional roof deck leak repair services in Morro Bay.
---
How Long Does Roof Deck Leak Repair Take?
Repairing a roof deck leak's duration varies based on several factors. Minor leaks that are easily identifiable and require straightforward fixes may take just a few hours. However, more extensive leaks demanding intricate repairs, especially if they involve significant damage or multiple leak points, could take a day or more. Repairing a roof deck leak typically involves steps like locating the source, cleaning the affected area, and then applying specialized materials to mend the damaged sections.
Additionally, weather conditions or the need for extra drying time might influence the overall duration. It's crucial to swiftly address leaks to prevent further harm, yet the time required for repair hinges on the complexity and scope of the issue.
Why Choose DeckTech?
At DeckTech, we understand the critical role a roof plays in protecting your property against elements. A leaky roof deck can lead to significant water damage if not addressed promptly and properly.
That's where we come in! With over a decade of experience, our team is equipped with cutting-edge tools and techniques to ensure efficient repair of your leaking deck.
We Are Experts In:
Detecting leaks: Our thorough inspection process quickly identifies the source of leaks, preventing further damage.
Maintaining structural integrity: We ensure that our repairs maintain or improve the structural integrity of your property.
Prolonging lifespan: We use high-quality materials designed to extend the lifespan of your rooftop deck.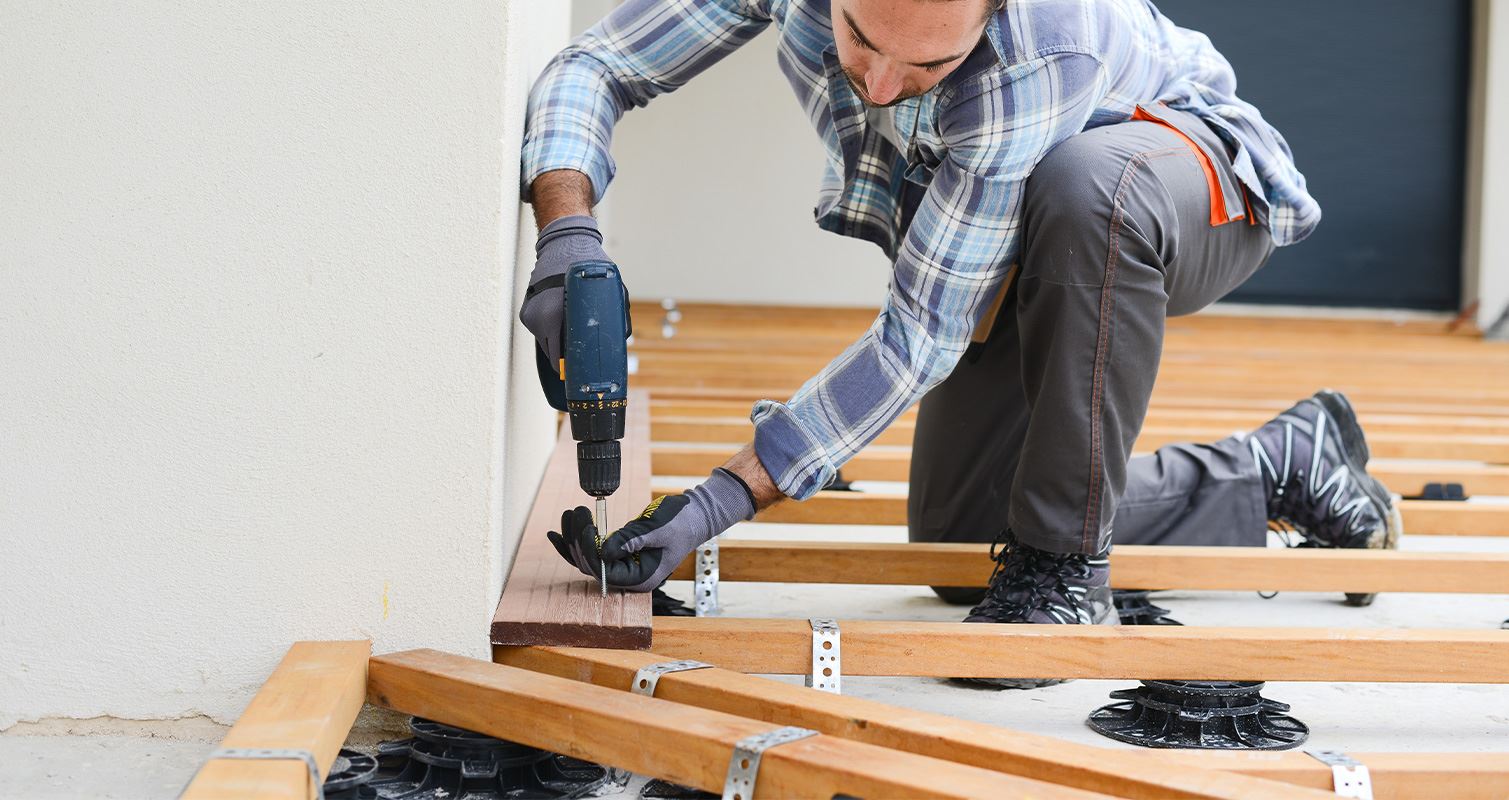 Ready to elevate your outdoor living space?
Contact us today to schedule your deck installation!
Call Now!
Hear From Our Valued Customers
"I truly have the Most Exceptional, Wonderful Deck Guy in all the world!"

Suzie

"The job has gone so smoothly!"

Jessica

"Thanks again!"

Danielle R.

"As a home owner, who was chasing leaks all over our deck, I highly recommend Decktech. The owner, project manager and work crew were extremely professional."

JR D.

"Outstanding Service"

Lisa Lewis
Why Choose Deck Tech?
Learn why we're the right choice for your outdoor space
EXCEEDING EXPECTATIONS FOR 30+ YEARS

FREE ESTIMATES AND LOCAL QUOTES

CUSTOM DECK DESIGNS & INSPECTIONS

INDUSTRY'S BEST MATERIALS & MANUFACTURERS

WARRANTIES & GUARANTEED SOLUTIONS

FULLY CERTIFIED & INSURED CONTRACTORS