Fully Licensed Deck Contractors in Cambria
High-Quality Professional Deck Services in California
Our knowledgeable deck experts at DeckTech, Inc. have exceeded our customers' expectations in Cambria and beyond for over 30 years. From professional resurfacing to new construction, our friendly deck contractors take pride in being leaders in the industry of deck construction, repair, installation, and new construction in California.
Whether you want to restore your outdated deck to its former timeless elegance or are looking to invest in new construction tailored to your unique style and preferences, our fully licensed deck contractors have the hands-on experience and skills to create and deliver the customized deck solutions you're searching for.
In need of professional deck services in Cambria or the surrounding area? Call our friendly deck contractors at (805) 250-4498 to schedule an appointment.
Professional Deck Services in Cambria & Beyond
Our Cambria deck contractors offer a variety of professional deck services in California, including:
New Deck Construction
Looking to enhance your outdoor living space with a brand-new deck? Our team specializes in creating custom decks that suit your unique style, preferences, and budget. We work closely with you to design and construct a deck that not only complements your home, but enhances the overall value of your Cambria property.
Deck Repair
Over time, decks may experience wear and tear due to weather conditions, age, or improper installation. Our professional deck repair services include fixing loose boards, repairing structural damage, and addressing any safety concerns. We use top-quality materials to ensure durability and long-lasting results.
Deck Reconstruction
If your deck is beyond repair, our skilled team can provide professional deck reconstruction services. We will evaluate the condition of your existing deck and develop a plan to rebuild it from the ground up. With attention to detail and precision, we ensure that your new deck meets both aesthetic and structural requirements.
Deck Resurfacing
If your deck is showing signs of aging or has lost its original luster, our professional deck resurfacing services can breathe new life into it. We will carefully assess the current condition of your deck and recommend the most suitable resurfacing options. From refinishing to applying protective coatings, we enhance the appearance and extend the lifespan of your deck.
Roof Deck Leaking
Roof deck leaking can cause significant damage to your property if not addressed promptly. Our experts are skilled in identifying the source of leaks and providing effective solutions to prevent further damage. Our deck contractors can conduct a thorough inspection to identify and repair any issues while ensuring your roof deck is properly waterproofed to withstand future weather conditions.
Deck Inspections
Regular deck inspections are essential to maintain the safety and structural integrity of your deck. Our friendly deck experts conduct comprehensive deck inspections, identifying potential hazards, structural weaknesses, and signs of damage. With our expertise, we provide detailed reports and recommendations to keep your deck in optimal condition.
Deck Waterproofing
Protecting your deck from moisture damage is crucial for its longevity. Our deck waterproofing services include applying high-quality sealants and coatings to keep water out and prevent rot, mold, and decay. Our Cambria deck contractors use industry-leading products to ensure lasting protection against the elements.
Deck Installations
Looking to revamp with a unique and elegant deck surface? Our deck contractors specialize in professional deck installations, including tile decks and stone decks, to add beauty and sophistication to your outdoor living space. We have the knowledge and expertise to handle intricate designs and patterns, ensuring a flawless finish that exceeds our customers' expectations for their Cambria residence or property.
Contact Our Cayucos Deck Contractors
Our friendly deck experts at DeckTech, Inc. have over 30 years of industry experience in Cambria and the surrounding areas. Our projects involve the highest degree of craftsmanship and quality to ensure your new or restored deck lasts for years to come. With 24/7 services and warranties available, you can trust our California deck contractors to provide durable materials and high-quality workmanship required to perfect the deck of your home or business. We offer free estimates and custom designs to accommodate customers throughout San Luis Obispo County.
Our deck contractors offer professional deck services to Cambria home and business owners. Call (805) 250-4498 to request an estimate!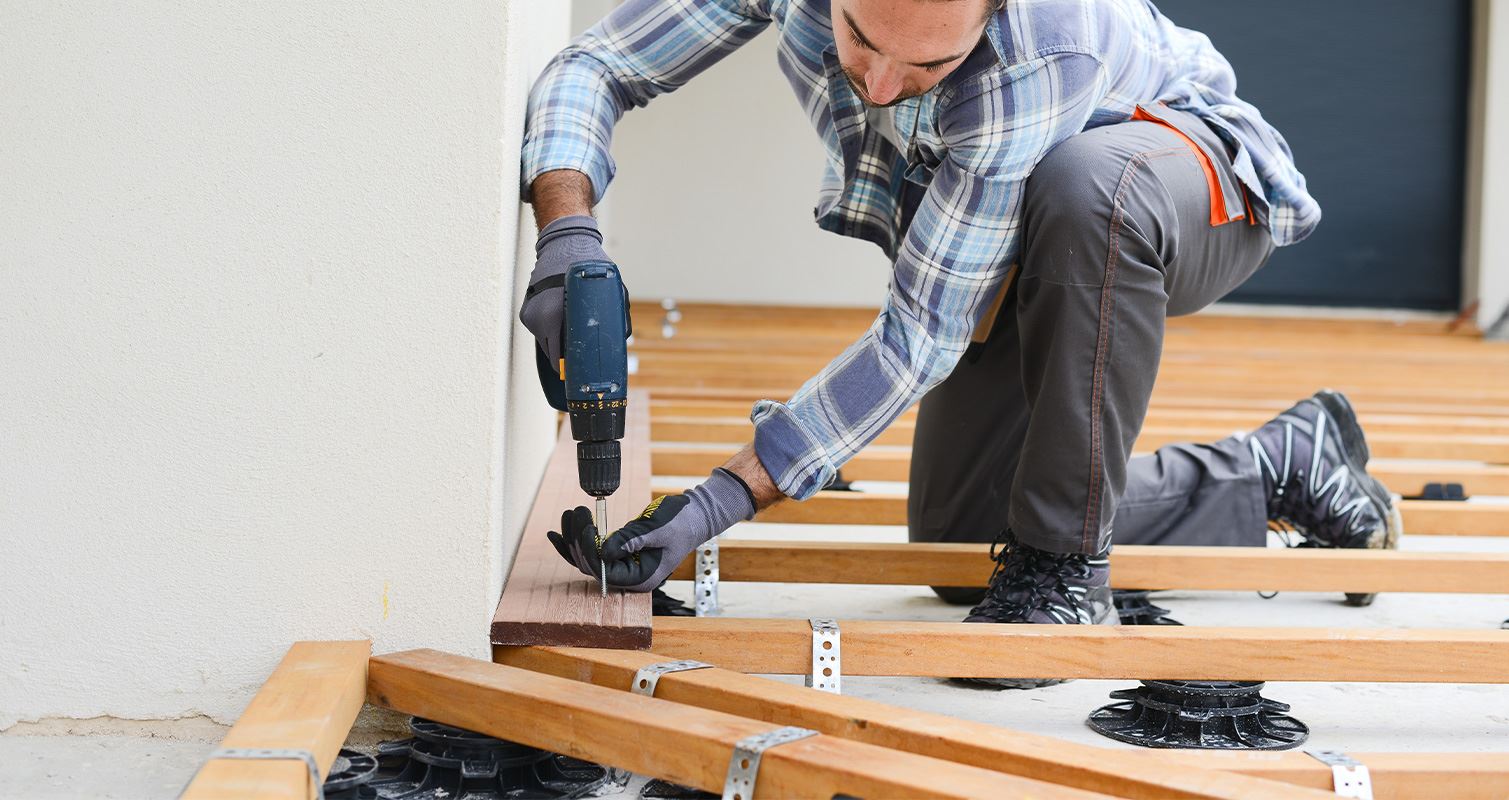 Ready to elevate your outdoor living space?
Contact us today to schedule your deck installation!
Call Now!
Hear From Our Valued Customers
"I truly have the Most Exceptional, Wonderful Deck Guy in all the world!"

Suzie

"The job has gone so smoothly!"

Jessica

"Thanks again!"

Danielle R.

"As a home owner, who was chasing leaks all over our deck, I highly recommend Decktech. The owner, project manager and work crew were extremely professional."

JR D.

"Outstanding Service"

Lisa Lewis
Why Choose Deck Tech?
Learn why we're the right choice for your outdoor space
EXCEEDING EXPECTATIONS FOR 30+ YEARS

FREE ESTIMATES AND LOCAL QUOTES

CUSTOM DECK DESIGNS & INSPECTIONS

INDUSTRY'S BEST MATERIALS & MANUFACTURERS

WARRANTIES & GUARANTEED SOLUTIONS

FULLY CERTIFIED & INSURED CONTRACTORS